Home / De lijst van deze week / Download radioprogramma / live stream - Golfbrekerradio / Archief / Contact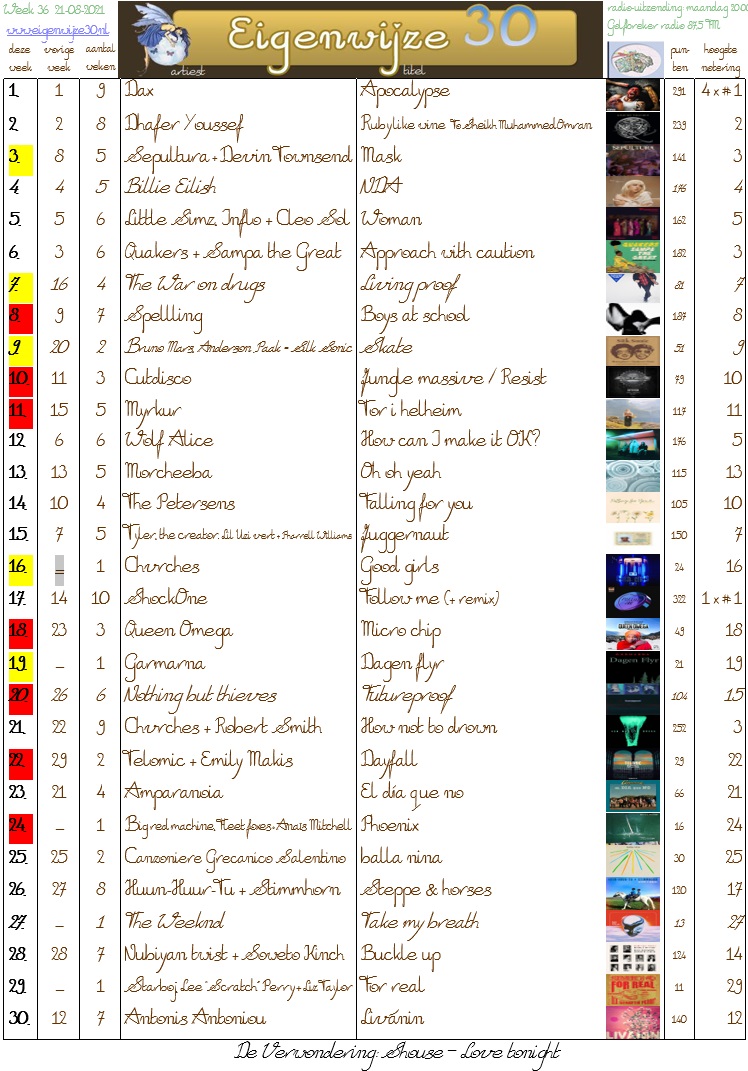 Vier weken houdt de Canadese rapper Dax het vol bovenaan de Eigenwijze 30, de perfecte soundtrack van de dystopische film waarin we leven.
Verstillend mooi brengt de Tunesische singer-songwriter Dhafer Youssef een ode aan zijn held en blijft staan op plaats 2.
Alle registers gaan juist open om je wakker te schudden met de boodschap van Sepultura en Devin Townsend, zij stijgen met superstip naar de derde plaats.
5 _ nieuwe binnenkomers voor; Chvrches, Garmarna, Big red machine + Fleet foxes + Anais Mitchell, The Weeknd en Starboj + Lee scratch Perry + Liz Taylor.
7 stippen
4 superstippen voor; Sepultura + Devin Townsend, The War on drugs, Silk sonic, Chvrches en Garmarna.
De langst genoteerde is deze week een dansplaat van ShockOne met tien weken.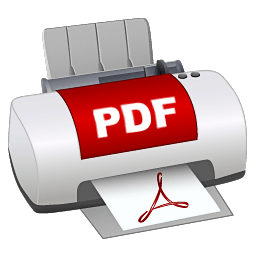 Luister maandag van 20:00 tot 24:00 naar de Radio-uitzending op Golfbreker-radio via deze live stream:


Of in Soest, Amersfoort, Harderwijk, Nunspeet, Nijkerk, Barneveld, Wageningen, Veenendaal, Leusden, Ede, Arnhem, Nijmegen en Tiel te beluisteren via DAB+
Of als je de live uitzending hebt gemist kan je luisteren naar de pod-casting. Je kunt de vorige radio-uitzending hieronder downloaden: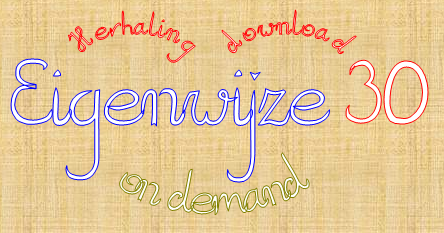 Videoclips of audio:


Tips / bubling under:
Ongeveer 30% van de Eigenwijze 30 wordt bepaald door luisteraars, dus laat je stem horen. Op de onderstaande nummers kun je stemmen om ze hoger in de Eigenwijze 30 te krijgen, of te laten binnenkomen, of geef een andere tip! Stuur een e-mail met je keuzes.
Stemmen mag op je eigen wijze. Of je nu aan jouw favoriete singles cijfers of punten geeft of juist een top 1,3,5,10 inlevert, het maakt niet uit, als je de stemmen maar verzendt via e-mail of onderstaande poll. (Deze poll wordt soms door adblokkers niet weergegeven)(Refreshen of f5 indrukken helpt ook om de nieuwe stemlijst te zien.)

Eigenwijze 30
| 1. | | 1 | 9 | Dax | Apocalypse |
| --- | --- | --- | --- | --- | --- |
| 2. | | 2 | 8 | Dhafer Youssef | Ruby like wine "To Sheikh Muhammed Omran" |
| 3. | | 8 | 5 | Sepultura + Devin Townsend | Mask |
| 4. | | 4 | 5 | Billie Eilish | NDA |
| 5. | | 5 | 6 | Little Simz, Inflo + Cleo Sol | Woman |
| 6. | | 3 | 6 | Quakers + Sampa the Great | Approach with caution |
| 7. | | 16 | 4 | The War on drugs | Living proof |
| 8. | | 9 | 7 | Spellling | Boys at school |
| 9. | | 20 | 2 | Bruno Mars, Anderson .Paak = Silk Sonic | Skate |
| 10. | | 11 | 3 | Cutdisco | Jungle massive / Resist |
| 11. | | 15 | 5 | Myrkur | Tor i helheim |
| 12. | | 6 | 6 | Wolf Alice | How can I make it OK? |
| 13. | | 13 | 5 | Morcheeba | Oh oh yeah |
| 14. | | 10 | 4 | The Petersens | Falling for you |
| 15. | | 7 | 5 | Tyler, the creator, Lil Uzi vert + Pharrell Williams | Juggernaut |
| 16. | | _ | 1 | Chvrches | Good girls |
| 17. | | 14 | 10 | ShockOne | Follow me (+ remix) |
| 18. | | 23 | 3 | Queen Omega | Micro chip |
| 19. | | _ | 1 | Garmarna | Dagen flyr |
| 20. | | 26 | 6 | Nothing but thieves | Futureproof |
| 21. | | 22 | 9 | Chvrches + Robert Smith | How not to drown |
| 22. | | 29 | 2 | Telomic + Emily Makis | Dayfall |
| 23. | | 21 | 4 | Amparanoia | El día que no |
| 24. | | _ | 1 | Big red machine, Fleet foxes + Anaďs Mitchell | Phoenix |
| 25. | | 25 | 2 | Canzoniere Grecanico Salentino | balla nina |
| 26. | | 27 | 8 | Huun-Huur-Tu + Stimmhorn | Steppe & horses |
| 27. | | _ | 1 | The Weeknd | Take my breath |
| 28. | | 28 | 7 | Nubiyan twist + Soweto Kinch | Buckle up |
| 29. | | _ | 1 | Starboj, Lee "Scratch" Perry + Liz Taylor | For real |
| 30. | | 12 | 7 | Antonis Antoniou | Livánin |
| 31. | | _ | 1 | Clipping. | Wriggle (+ remix) |
| 32. | | _ | 1 | Little Simz | Venom |
| 33. | | _ | 1 | Pendulum + Hybrid Minds | Louder Than Words |
| 34. | | _ | 1 | Sufjan Stevens + Angelo de Augustine | Reach Out / Olympus |
| 35. | | 24 | 10 | Skee mask | Nvivo / Testo BC mashup |
| 36. | | _ | 1 | Tom MacDonald | Clown World |
| 37. | | _ | 1 | Billie Eilish | Happier than ever |
| 38. | | _ | 1 | London grammar | Lord it's a feeling (+ orchestral) |
| 39. | | 30 | 6 | Fr33sol + Illuminati Congo | They liv3/Burn d3m |
| 40. | | _ | 1 | Eva Quartet | Razvivay, Dobro, Povivay |
| 41. | | 18 | 3 | Sault | Bitter streets |
| 42. | | 19 | 11 | Mdou Moctar | Afrique victime |
| 43. | | 17 | 4 | TWR72 | Mono / Assemble |
| 44. | | _ | 1 | Kanye West, The Weeknd + Lil Baby | Hurricane |
| 45. | | _ | 1 | Little Simz | I Love You, I Hate You |
| 46. | | _ | 1 | Cody Johnson | Til You Can't |
| 47. | | _ | 1 | Caroline Polachek | Bunny is a Rider |
| 48. | | _ | 1 | Leprous | Running Low |
| 49. | | _ | 1 | Hamdi Benani, Mehdi Haddab + Speed caravan | Jani Ma Jani |
| 50. | | _ | 1 | San Salvador | Fai Sautar |
| 51. | | _ | 1 | Iglooghost | Big Protector |
| 52. | | _ | 1 | black midi | Chondromalacia Patella |
| 53. | | _ | 1 | The Killers + Phoebe Bridgers | Runaway Horses |
| 54. | | _ | 1 | Froukje | Niets tussen |
| 55. | | _ | 1 | Ichiko Aoba (????) | Asleep among endives (??????????) |
| 56. | | _ | 1 | Iron Maiden | The Writing On The Wall |
| 57. | | _ | 1 | Yola | Stand for yourself |
| 58. | | _ | 1 | Yola | Starlight |
| 59. | | _ | 1 | Gang of youths | the angel of 8th ave. |
| 60. | | _ | 1 | Andy Martin + Lee ""Scratch"" Perry | Revolution |
| 61. | | _ | 1 | Nitin Sawhney, Spek, Rahel Debebe-Dessalegne | Lifeline |
| 62. | | _ | 1 | Trivium | In The Court Of The Dragon |
| 63. | | _ | 1 | Balkan Taksim | Anadolka |
| 64. | | _ | 1 | O.D.D TV + Steve Grant | Right 2 Remain Ignorant |
| 65. | | _ | 1 | Coldplay | Coloratura |
| 66. | | _ | 1 | Foo Fighters | Making A Fire (+ remix) |
| 67. | | _ | 1 | Sons of Kemet + Kojey Radical | Hustle |
| 68. | | _ | 1 | Thy Catafalque | Piros-sárga |
| 69. | | _ | 1 | Celenka | Vanusha |
| 70. | | _ | 1 | L'Alba, Éric Ferrari, Sébastien Lafarge, François Guironnet, Nicolas Torracinta + Ghjuvanfrancescu Mattei | Indiferenti |
| 71. | | _ | 1 | RC | Just Say No |
| 72. | | _ | 1 | Lingua Ignota | Pennsylvania Furnace |
| 73. | | _ | 1 | Gojira | The Chant |
| 74. | | _ | 1 | Antonis Antoniou + Andreas Neocleous | Ttappa kato |
| 75. | | _ | 1 | Magdalena Bay | Chaeri |
| 76. | | _ | 1 | Gájanas | Diamántadulvvit |
| 77. | | _ | 1 | Shyex | Undead |
| 78. | | _ | 1 | Majical + Kibir La Amlak | Do You Know |
| 79. | | _ | 1 | From Ashes To New | Light Up The Sky |
| 80. | | _ | 1 | Villagers | So simpatico |
| 81. | | _ | 1 | Sevara Nazarkhan | Bir kam dunyo (Imbalanced world) |
| 82. | | _ | 1 | Tyler,the creator | Lumberjack |
| 83. | | _ | 1 | Serj Tankian | Elasticity |
| 84. | | _ | 1 | Trio Mandili | Mtiuluri |
| 85. | | _ | 1 | Mammoth WVH | Don't Back Down |
| 86. | | _ | 1 | Stef Bos | Iemand moet het doen |
| 87. | | _ | 1 | Injury reserve | Knees |
| 88. | | _ | 1 | Cassandra Jenkins | Hard Drive |
| 89. | | _ | 1 | Within temptation + Annisokay | Shed My Skin |
| 90. | | _ | 1 | Quakers + Jeru The Damaja | Fa real |
| 91. | | _ | 1 | Olivia Rodrigo | Good 4 u |
| 92. | | _ | 1 | Orchestre Tout puissant Marcel Duchamp | So many things (To feel guilty about) |
| 93. | | _ | 1 | Olivia Vedder, Eddie Vedder + Glen Hansard | My Father's Daughter |
| 94. | | _ | 1 | King Gizzard & The lizard wizard | Yours |
| 95. | | _ | 1 | Yat-Kha | Shartylaam |
| 96. | | _ | 1 | Nubiyan Twist + K.O.G. | If I Know |
| 97. | | _ | 1 | Carola Ortiz | El Testament d'Amčlia |
| 98. | | _ | 1 | Peggy Gou | I Go |
| 99. | | _ | 1 | Darkside | Lawmaker |
| 100. | | | 3 | Kings of convenience | Rocky trail |
| 101. | | _ | 1 | GoGo penguin | F maj pixie (+ remix) |
| 102. | | _ | 1 | Sofía Rei | Negro Sobre Blanco |
| 103. | | _ | 1 | Selah Sue | Free Fall |
| 104. | | _ | 1 | Blk Jks | Harare |
| 105. | | _ | 1 | Sam Fender | Seventeen Going Under |
| 106. | | | 9 | Gojira | Amazonia |
| 107. | | _ | 1 | Altin Gün | Kisasa kisas |
| 108. | | _ | 1 | Katalena | Ah, le kaj ti povem |
| 109. | | _ | 1 | Urna Chahar-Tugchi + Kroke | Beleg (The gift) |
| 110. | | _ | 1 | King Buffalo | Silverfish |
| 111. | | _ | 1 | Tania Saleh (????? ????) | Anyone but you (Illa fik ??? ???) |
| 112. | | _ | 1 | Antonis Antoniou | Doulia (????e??) |
| 113. | | _ | 1 | BadBadNotGood | Signal From The Noise |
| 114. | | _ | 1 | Saucejas | Aiz Daugavas melni meži |
| 115. | | _ | 1 | Tautumeitas | Meža |
| 116. | | _ | 1 | Ben Aylon + AvevA | Hulem Belibe |
| 117. | | _ | 1 | Cari Cari | Belo Horizonte |
| 118. | | _ | 1 | Hiatus Kaiyote + Arthur Verocai | Get Sun |
119. _ 1 Volbeat Wait A Minute My Girl 120. _ 1 Fatoumata Diawara Kokoro (+ remix) 121. _ 1 The Fearless Flyers Introducing the Fearless Flyers 122. _ 1 Sterac Ghost 37 Numbers ep 123. _ 1 WDR Sinfonieorchester, Michael Wendeberg + Clara Iannotta Moult (2018-19) for chamber orchestra 124. _ 1 Mara Aranda Picaina 125. _ 1 Fat Freddy's drop Shady 126. _ 1 Antonis Antoniou Kkismettin 127. _ 1 IAmTheShadow On Winter Leaves Embrace 128. _ 1 Los Yesterdays Nobody's clown / Give me one more chance 129. _ 1 Lone + Morgane Diet Hidden By Horizons 130. _ 1 Nas, Cordae + Freddie Gibbs Life is Like a Dice Game 131. _ 1 Celenka Villoi Varsa 132. _ 1 Quakers + Jeremiah Jae This station 133. _ 1 Thy Catafalque Köszöntsd A Hajnalt 134. _ 1 Infected Mushroom You Wanna Stay 135. _ 1 Michael Mayer Brainwave Technology 136. _ 1 James Blake Say what you will 137. _ 1 Willow + Travis Barker t r a n s p a r e n t s o u l 138. _ 1 Nytt land Ritual 139. _ 1 Island My brother 140. _ 1 Kamel El Harrachi Ghabou 141. _ 1 Maarja Nuut a feast 142. _ 1 Yann Tiersen Ker Yegu 143. _ 1 Hakushi Hasegawa (?????) Look at me (??????) 144. _ 1 Yupanna Palisades 145. _ 1 Mdou Moctar Taliat 146. _ 1 Fr33sol + Lavva Ankh udja seneb 147. _ 1 James Blake Life is not the same 148. _ 1 Kamasi Washington + Patrice Quinn Sun kissed child 149. _ 1 Squid + Martha Skye Murphy Narrator 150. _ 1 Sufjan Stevens + Angelo de Augustine Back to Oz 151. _ 1 Gogol Bordello Roaring 2020s ( RenaiDance) 152. _ 1 Horsey + King Krule Seahorse 153. _ 1 Angrusori Chude man vastestar 154. _ 1 Jinjer Mediator 155. _ 1 Vijay Iyer, Linda Oh + Tyshawn Sorey Combat Breathing 156. _ 1 Eric Clapton This Has Gotta Stop 157. _ 1 Guydence Hell on earth 158. _ 1 Laurita Peleniute + Auli Sveteliai / Ciemini 159. _ 1 Lee Mvtthews, TREi + Nü Lights Out 160. _ 1 Epica The Skeleton Key 161. _ 1 The Age of love The Age of love (+ remix) 162. _ 1 Amenra De Evenmens 163. _ 1 Dax Dear Mom 164. _ 1 salvador sobral sangue do meu sangue 165. _ 1 Between the Buried and Me Revolution in Limbo 166. _ 1 Deafheaven In blur 167. _ 1 Selah Sue + TOB Hurray 168. _ 1 Intergalactic Lovers Bobbi 169. _ 1 Dobet Gnahoré Yakané 170. _ 1 Dream theater The alien 171. _ 1 Natalia Lafourcade, Los Cojolites Nada Es Verdad 172. _ 1 Serj Tankian How Many Times? 173. _ 1 paris jackson + manchester orchestra adagio 174. _ 1 Nu Genea + Célia Kameni Marechiŕ 175. _ 1 Jakuzi Hiç Isik Yok 176. _ 1 Jett Rebel Behave 177. _ 1 Helsinki-Cotonou Ensemble Min he mon égbé (The one who sees today) 178. _ 1 Zero 7 + Lou Stone Shadows 179. _ 1 Jubin Nautiyal, Tanishk Bagchi + Manoj Muntashir Lut gaye 180. _ 1 Lorde Solar power 181. _ 1 Oneohtrix point never + Rosalía Nothing's Special 182. _ 1 Dave Koz + Cory Wong Today 183. _ 1 Serj Tankian Electric Yerevan 184. _ 1 The City Gates The Pyre 185. _ 1 Khruangbin Dearest Alfred 186. _ 1 Sault London gangs 187. _ 1 Dragged under + Spencer chamberlain Brainwash Broadcast 188. _ 1 Japanese Breakfast Posing in bondage 189. _ 1 PinkPantheress Just for me 190. _ 1 Tricot Inai (???) 191. _ 1 London grammar America 192. _ 1 Sabation Kingdom Come 193. _ 1 Dollkraut Vuile Leugenaar 194. _ 1 Kayak Out Of This World 195. _ 1 Sameer Khan, Bharat Goel + Kaushal Kishore Ek Bewafaa 196. _ 1 Niepokoje Goscinne Korytarz 197. _ 1 Eve Music Video ???? (faint at night) 198. _ 1 Akkajee Lastenkerääjä 199. _ 1 Seyes Sans titre 200. _ 1 Charlotte Day Wilson Changes 201. _ 1 Massilia Sound System Sale Caractčre 202. _ 1 Dltzk how to lie 203. _ 1 The Offspring This Is Not Utopia 204. _ 1 Noname Rainforest 205. _ 1 Shouse Love tonight (+ remix) 206. _ 1 Komodo Lost Kids 207. _ 1 Jaubi Satanic Nafs (+ remix) 208. _ 1 Jasiah + Nascar Aloe Unintelligible 209. _ 1 Alafsar Rahimov + Elnur Hüseynov Uzun Dere 210. _ 1 Estas Tonne, Zola Dubnikova + Liat zion Vision 211. _ 1 Liquid tension experiment Beating The Odds 212. _ 1 Tom MacDonald, Nova Rockafeller + Brandon Hart No Good Bastards 213. _ 1 Devin Townsend Aftermath 214. _ 1 Tom Morello + Pussy Riot Weather strike 215. _ 1 Xavier Rudd Stoney Creek 216. _ 1 Jorja Smith + Shaybo Bussdown 217. _ 1 Halsey I'm not a woman, I'm a God 218. _ 1 Maria Arnal, Marcel Bagés + Kronos quartet Jaque 219. _ 1 Nox Novacula Last Will and Testament 220. _ 1 Eefje de Visser Cybele 221. _ 1 Canzoniere Grecanico Salentino Meridiana 222. _ 1 Grupo Changüí de Guantánamo Hazlo Como Yo 223. _ 1 Ed Sheeran Bad habbits 224. _ 1 Low Disappearing 225. _ 1 Joao Selva Navegar 226. _ 1 Hiatus Kaiyote Red room 227. _ 1 Desperate Journalist Everything You Wanted 228. _ 1 Guydence + Ask Gabz Vaccination 229. _ 1 Arlo Parks Hope 230. _ 1 Beyoncé, Jay-z, Childish Gambino, Oumou Sangaré Mood 4 Eva 231. _ 1 GusGus Simple Tuesday 232. _ 1 Genesis Owusu Same Thing 233. _ 1 Methyl Ethel Neon Cheap (+ remix) 234. _ 1 Lor Nikt 235. 11 Darkside The limit 236. _ 1 Liraz Bia Bia 237. _ 1 Kacey Musgraves Star-Crossed 238. _ 1 Quadeca Sisyphus 239. _ 1 Tropical Fuck Storm G.A.F.F. 240. _ 1 Spellling Little deer 241. _ 1 Light the torch Wilting In The Light 242. _ 1 Chris Stapleton You Should Probably Leave 243. _ 1 Manu Chao, Cedric Myton + Chalart58 Free the people 244. _ 1 Big red machine + Taylor Swift Renegade 245. _ 1 Porter Robinson Musician 246. _ 1 Jungle Keep Moving 247. _ 1 Zanias Unraveled 248. _ 1 Ian Brown Little Seed Big Tree 249. _ 1 Novelbright Evening primrose (?????) 250. _ 1 O.D.D TV Level 251. _ 1 Bill Wurtz Money 252. _ 1 Big Thief Little Things / Sparrow 253. _ 1 Public service broadcasting, Andreya Casablanca Blue heaven 254. _ 1 Nothing But Thieves Miracle, Baby 255. _ 1 Clustersun Barricades 256. _ 1 Feu! Chatterton Monde nouveau 257. _ 1 Trippie Redd + Playboi Carti Miss The Rage 258. _ 1 Actors Only Lonerly 259. _ 1 Chelsea Wolfe + Emma Ruth Rundle Anhedonia 260. _ 1 Powerwolf Dancing with dead 261. _ 1 Doss Strawberry 262. _ 1 The Haunted Youth Coming home 263. _ 1 Tony Vega + Amy Gutierrez Tu y yo 264. _ 1 Pip Blom Keep It Together 265. _ 1 Courtney Barnett Rae Street 266. _ 1 Natalia Lafourcade + Los Cojolites Nada Es Verdad 267. _ 1 RXK Nephew Early Age Death 268. _ 1 Marine Houshou (?????) + Yunomi Unison 269. _ 1 Isaiah Rashad Headshots (4r Da Locals) 270. _ 1 Weyes Blood Titanic Risen 271. _ 1 Island Do you remember the times 272. _ 1 Limińanas, Garnier + Edi Pistolas Que Calor ! 273. _ 1 Magdalena Bay Secrets (Your fire) 274. _ 1 Jessie Ware Hot N Heavy 275. _ 1 Wies Gewoon Je Maat 276. _ 1 Melle Run run 277. 4 Palya Bea Hinta 278. _ 1 Japanese Breakfast Savage Good Boy 279. 3 Jinjer Vortex 280. _ 1 Ethan P. Flynn + Black country, new road Television Show 281. _ 1 Cats On Trees Please please please 282. _ 1 Squid Paddlling 283. _ 1 Playaphonk Phonky town 284. _ 1 Bruno Pernadas Theme Vision (+ version) 285. _ 1 Japanese breakfast Be sweet 286. _ 1 Bo Burnham All Eyes On Me 287. _ 1 Baltra Dreaming of a Disco 288. _ 1 Torres Thirstier 289. _ 1 Abba Don't shut me down 290. _ 1 Teleman Right As Rain 291. 4 s10 Adem je in 292. _ 1 Tape toy Tired 293. _ 1 The Neil Morse band Do It All Again 294. _ 1 Noromakina Nada 295. _ 1 Lorde Mood ring 296. _ 1 DV-i Perpetual 297. _ 1 Xiu Xiu + Liz Harris A Bottle of Rum 298. _ 1 Duda Beat Meu Pisęro 299. _ 1 Abba I Still Have Faith In You 300. _ 1 Sting If it's love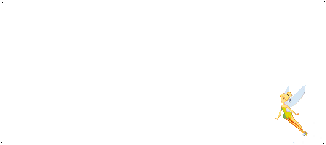 Terug naar de homepage